We offer two guest cabins for rent in the Yukon. Both cabins are fully equipped and designed for self-sufficient rental.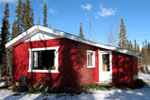 Our guest cabin is located 60 kilometers east of Whitehorse. From the cabin, the shores of the 32-kilometer long Marsh Lake are only a few minutes walk away. A few houses are located close by but so is the wilderness. The cabin also includes a Finnish sauna with a wood stove. An ice skating rink, cross-country ski trails and a sports hall are only 3 km away.
>> more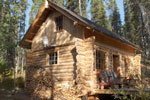 The other cabin is on Otter Island, located on Big Salmon Lake. It is completely isolated and surrounded by total wilderness. In the summer the island can be reached from Whitehorse by float plane or by van shuttle and canoe. In the winter you can fly there by ski plane or rent snowmobiles and drive on the Canol Road from Johnsons Crossing to Big Salmon Lake.
>> more