Cabin rental Otter Island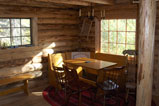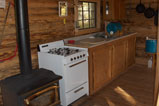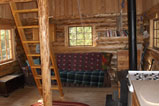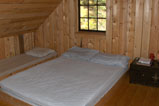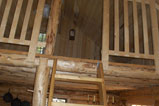 Click to enlarge...

Two log cabins and a log sauna building on an island on Big Salmon Lake.
Only one group at a time on the island.
Maximum occupancy is 6 people.
Available from June to September and from December to April.

Included in the rental price:

Main cabin with loft (Sleeps 4 people)
Cabin size is 6 meter by 4.2 meters.
Kitchen with propane cook stove and oven, kitchen counter, sink, cup boards.
Dining area with table, chairs and Bavarian style corner bench.
Living area with couch, rocking chair and small table.
Wood stove (Firewood is provided)
Propane lights (Propane for kitchen and lights is provided)

Small log cabin (Sleeps 2 people)
Cabin size is 3.4 meters by 2.6 meters.
1 bunkbed
2 chairs, table, chest of drawers
Wood stove (Firewood is provided)

Sauna log building (Finish style sauna)

Outhouse (Toilet paper provided)

Following is also provided:
All kitchen utensils, pots, pans, dish cloths, dish soap, bedding and bed sheets, pillows,
axe, saw, fire pit, outdoor furniture

170.00 per day for up to two people (when more than 7 nights 155.00 per day)
for any additional person (23.00 per day)

How to get there:

Summer: By van from Whitehorse and canoe from Quiet Lake
Shuttle for up to 4 people 500.00 plus 210.00 per canoe per week.
Float plane service is also available in Whitehorse.

Winter: By ski plane from Whitehorse
Or by van from Whitehorse to Johnsons Crossing (130 KM) and by snow mobile to Otter Island (120 KM)

Please inquire for rates.

All rates are subject to 5 % GST (Tax).